Jung Kook is born a Virgo ascendant in his birth chart thus he has a well-proportioned body infused with impeccable fashion sense and irresistible charms.




BTS bagged the 2023 Grammy nomination for Best Music Video for "Yet to come". Words will be insufficient to describe how visually impressive the music video is. Moreover, the heart connection this music video has created among Armies (BTS Fandom) and listeners across the globe without barriers of language, religion, race, nationalities, and whatever diversity can't be put into words. And how special the music video will probably only be felt in its true essence by Armies as 'Yet to come' imbue nostalgia and is an ode to BTS's nine-year journey along with Armies. There are multiple references to their past work (music videos) in the 'Yet to come' music video that can make Armies break down in tears while noticing them.


'Yet to come' truly does deserve to be nominated for Grammy 2023 whereas it can't be ignored how euphonious the song is thanks to how beautifully they sang it. Nonetheless, little did we know that they were not only singing but were telling us a prophecy of their own. The chorus part of the song 'Yet to come': This is only the beginning, best is yet to come' truly is that prophecy coming true the way they are creating history one after next. And this time by snagging three Grammy nods for 2023: Best pop duo/group performance for their 'My Universe' collab with Coldplay, as mentioned at the beginning Best music video for 'Yet to come' and are part of the Best Album category for Coldplay's The Music Sphere, which features writing credits by RM, J-Hope and Suga. Truly, their best is what comes next!



And here we have Jungkook, the golden maknae, the youngest member of BTS sooner going to create another beautiful & best moment and history for himself, his beloved & supportive families (including BTS members & Armies), and everyone tuning in for the grand opening ceremony of the FIFA World cup 2022 which is scheduled to be held on 20th November 2022 in Al Khor's Al Bayt Stadium.


On 12th November 2022, BTS stated, "Proud to announce that Jung Kook is part of the FIFA World Cup Qatar 2022 Soundtrack & will perform at the World Cup opening ceremony. Stay tuned!" via their official Twitter account.


These delightful tweets announcing Jungkook's participation in FIFA World Cup 2022 soundtrack and opening ceremony created a buzz across the globe. Online portals were taken by storm with the news of Jungkook's participation in FIFA World Cup 2022 it was trending at #1 worldwide on Twitter. Meanwhile, praise and glory were clamoring in Hangook (Korea) and across the world for Jungkook being the first ever Korean artist to perform in such a global event: FIFA World Cup.


방탄소년단 '정국'이 2022 FIFA 카타르 월드컵 공식 사운드트랙과 월드컵 개막식 공연에 참여합니다. 많은 기대 부탁드립니다!
Proud to announce that Jung Kook is part of the FIFA World Cup Qatar 2022 Soundtrack & will perform at the World Cup opening ceremony. Stay tuned!#FIFAWorldCup pic.twitter.com/MwJ2kdNRBp

— BTS_official (@bts_bighit) November 12, 2022

Koreans were extending their gratitude and exhibiting heartwarming appreciation and praise toward Jungkook for creating history for Hangook and making Korea proud with this huge milestone he achieved. But it's not the first time Jungkook has made the Hangook proud. Either it is by becoming the longest charting first and only K-pop artist with his solo song 'Euphoria' spending 85 weeks on the Billboard World Digital Song Sales chart or becoming the most searched pop idol in Google 2020 and 2021 with a search index of 628.57 and 600.00.respectively, he had kept nation's head held high.


So, what is special about Jungkook's chart for his massive success and the back-to-back historic feat he is achieving throughout his music career? Let's explore it with the astrological observation of his birth chart:


Virgo Ascendant and Venus in Ascendant house

Jungkook is born a Virgo ascendant and the "Perfectionism" trait is somehow glued to Virgo natives. This implies Jungkook has this obsession to reach the level of perfection with the work he partakes in life and he will have his standard set high to enhance his performance and work. It indeed will aid to bring out the best in him and put on the table what others had never imagined. He can spend long hours working on things he finds lacking till he is satisfied. This can ooze as stubbornness in him but it's the devotion and dedication governing him to reach perfection in his work. This attitude toward his career could be the leading reason his stage performance is flawless, enchanting, and heart-touching. There is magic in what he does but he will be more aware of how insanely he has practiced and devoted to bringing that magical element into his performance.

Furthermore, Virgo as his ascendant reveals he is persistent and industrious. He can go any greater lengths of walks with consistency and fearlessness which makes him an ace who can make the impossible possible. Due to his diligent and hardworking nature, he belongs to those categories that make luck work for them. The tenacity and hard work he put into himself to constantly strive for his own better version are those key factors for the perfection and magic he radiates while he is on stage.


Venus, the significator of beauty and glamour is in the ascendant house of Jungkook's natal chart. Venus in the ascendant house (First house) imparts a native with pleasant visuals and a well-proportioned body infused with impeccable fashion sense and irresistible charms & alluring appeal which is why no wonder Jungkook earned the title of 'Most Handsome Man in the World' on KingChoice 2021 scoring 2.4 million votes. And is also not to miss out on how Jungkook was crowned as the 'Sexiest International Man' for 2020 declared by People Magazine. With Venus in his first house, fame, popularity, and glamour will chase him naturally.


Venus is associated with creativity and art as well whereas Venus in the ascendant house of his natal chart infuses him with creative and artistic talent and a refined sense of aesthetics. Venus in the first house gives him a desire for art and creativity. And it's no surprise that Jungkook has a natural flair for creative expression through his music and art as he has proved his excellence and artistry through his singing, dancing, rapping, songwriting, song composition, video editing, and painting. He has gifted us heart-soothing and masterpiece songs including Still With You, Euphoria, My Time, and Film out' which are all self-produced and composed by himself.


Furthermore, Jungkook has proved his amazing songwriting skills in the song 'Still With You' and the Japanese Song 'Your Eyes Tell'. And it's praiseworthy and heart touching for the lyrics he has beautifully written for his solo song 'Begin' from BTS's second studio album 'Wings' and the song is all about his homage and honor to his BTS hyungs (brothers) extending gratitude, appreciations, and affection toward them for the way they raised that fifteen-year-old kid (Jungkook) for who he is today. While talking about the creative genius he possesses, he has produced masterpiece videos via his 'Golden Closet Films' banner and participated in directing BTS music as well.


His creative talent limits not only here, he has surprised fans and netizens with the magic of his hand. I mean, his painting! He has exceptional artistic skills that he has garnered praise and admiration from fans and netizens. His painting speaks for itself about how aesthetic and elegant it is. And the most surprising fact is that he self-learned to paint by watching videos of Bob Ross. He breathes creativity indeed. All in all, the creative field is an ideal career path for him to realize his fullest potential and gear him toward the pinnacle of success in his music career. He is to excel in a creative field and shine bright while spreading brightness, hope, and inspiration in others' life as well.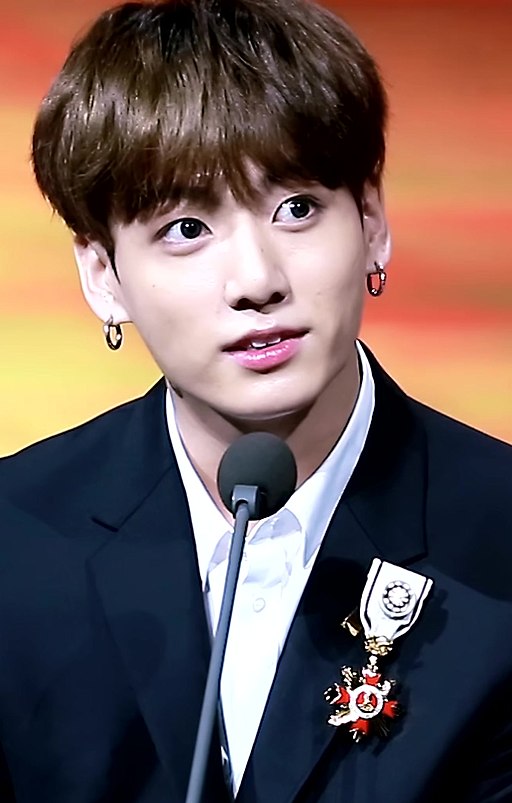 Conjunction of the 10th lord with the Moon, Sun, and Rahu in the 12th house

Looking at Jungkook's D-1(Birth) Chart, Mercury is the ruler of his tenth house (career house). Mercury is associated with social media, writing, poetry, composition, mimicry, and imitation which is why he will excel as a songwriter and composer. Apart from it, Jungkook can easily imitate the gestures, and behavior of people thanks to Mercury. And now it makes sense why Jungkook is so adept at mimicking their own BTS members but the good thing is they don't get offended for themselves being mimicked, instead they have fun together.


This natural trait, Jungkook possesses to mimic and imitate people can be one of the reasons he can imitate dance steps with ease thus he is one of the great dancers among BTS members and holds the position of "Lead Dancer" in the group. It's seen that Mercury-his career house (10th House) lord is in conjunction with Moon, Sun, and Rahu in the twelfth house (house of foreign). As a result, Jungkook would have to deal with foreign clients and make frequent foreign trips due to professional matters. And it makes sense how being a global artist, he has foreign fans from all across the nations and has to travel across the world for concerts, attend intermittent overseas interviews, and so on.


The combination of Mercury- ruler of his 10th house of career, Moon, Sun, and Rahu in the twelfth house (foreign house) indicates his career success won't remain domestic but will break through across the globe. His career achievement in life will be unbridled one that will cross any boundaries out there suggesting he will mark his feat in foreign countries and receive immense success and support from foreign fans. Large foreign fanbase he will have. The combination in the twelfth house (foreign house) hints that he is to enjoy massive success in a foreign land too.


Combination of Jupiter and Mars in D-10 chart

D-10 (Dasamsa) chart is also known as the chart for the profession which shed light on one's career in depth and indicates how much fame, power, prestige, and social status he/she will get to exercise in life. Thus, when analyzing a native's career outlook, observation of the D-10 (Dasamsa) chart is a must. Based on Jungkook's D-10 chart, its first house lord-retrograde Jupiter is in conjunction with Mars in the fourth house and has a relatively supportive influence for him to expand his career overseas. His blood, sweat, and tears invested in his career will richly reward him thus he will keep on growing and evolving in his profession.


The stellium of Venus, Mercury, and Sun and Moon placement in D-10

Furthermore, the cluster of Venus, Mercury, and Sun in the first house of the D-10 chart implies Jungkook will highly value art and creativity which is why his career choice will skew toward fields where there is a creative, aesthetic, and elegant touch to it. The combination of Venus and Mercury will fuel him with a heightened passion for music, creativity, and art whereas Sun will impart the courage and confidence to chase after his passion fearlessly. As a result, the entertainment industry or career field is ideal career from him where he will achieve staggering success and leave a legacy behind.


Over and above that, Moon is well aligned in the tenth house of his D-10 chart whereas a native with Moon in the tenth house of the D-10 chart is conferred with splendid success when the native associate in the field where creativity and art are prominent requirements like singing, dancing, writing, painting and something similar to creativity. And Jungkook to the pursuit of a career in the creativity and music field promises to fetch fame and fortune for him. Jungkook will get to experience immense respect, prestige, and popularity throughout his music career.


Talking about his ongoing Dasha, since July 2022, Jungkook has been running under Sun Dasha whereas Sun is occupying its sign of Leo in the twelfth house. As mentioned in one of the previous segments how his career lord-Mercury is sharing the same twelfth house (House of foreign) along with the Sun, Moon, and Rahu in the D-1 (Birth) chart which has favorable influences on him to enjoy extraordinary success in a foreign land too which is why it is no wonder he received the wonderful opportunity to be a part of FIFA World Cup this year and will be giving his magical performance on the opening ceremony too. But it's only the beginning, the best is yet to come!


Happy birthday my bruhhh!!!
Hope U best day everrrr💜
-your hope-#HappyBirthdayJungkook #HAPPYJKDAY #정국_없이_못4니까_9년째_함께하는중 pic.twitter.com/6JBcoSTdww

— 방탄소년단 (@BTS_twt) August 31, 2022
Astrological reading for the relationship aspect of Jungkook

The outlook of his career front is promising to shine bright and bloom with historic achievement however the relationship spectrum of his life is foreseen to bloom late as Saturn-slow moving planet is retrograde in the seventh house (Love & Relationship House) of his natal chart. Saturn can delay his love life to bloom.


Astrologically, the age after his mid-30s is foreseen as the golden period for relationship aspect for golden maknae- Jung Kook when his relationship with his beloved one will bloom beautifully filling his life with immense joy and happiness.


Checking his seventh house, it's Jupiter which holds the lordship of his seventh house (Relationship House) is weakly aligned with the fifth house (house of romance). This does indicate his romantic aspect of life will have its ebbs and flows, nonetheless, every relationship no matter how it claims to be perfect. Never exceptional in ups and downs which is why despite the ups and downs in his relationship aspect of life, he can still navigate through it with prioritization to building a strong foundation of understanding and meaningful conversation in the romantic bond.