Sagittarius (Dhanu): Saggitarius dream of going to places where no man has been before. It is in your soul to take the road less traveled so that you can make all the difference in your life. You would generally travel to experience new things and learn from your life. City and urban areas are not where your heart would take you during your holidays. The most suitable places for you will be remote destinations and retreats which few people know of.


Lesser-Known Destinations
Torshavn, Faroe Islands: Faroe is an island country which is a cluster of 18 volcanic islands connected by road tunnels, ferries, causeways, and bridges. It provides flawless hiking routes, fishing villages and snow-capped cliffs. The Torshavn is the capital of the island with the inhabitant of only 20,000 people. It has natural spots to attract you with the ideal background for your tourist snaps. Very few tourists travel to this place and if you take the initiative to visit the place, you may be one of the few who have been to the place.


Dominica: Another island country located in the Caribbean, Dominica has natural hot springs and tropical rainforests which has not been touched by human civilization. Unlike the stereotypical Caribbean island parties and beaches, the country offers hot springs, snorkeling, reefs, sea turtles, eco-hotels, innumerable hiking trails, and a volcano. You can go to the very bare essence of nature in this place and just be one with nature.


India: India has gained its fame as one of the most culturally rich places as such is not lesser known. However, there are various places of the country that is overlooked by the tourist due to their attention being grabbed by the architectural genius that is the Taj Mahal. There are places such as Mehrangarh Fort, Amer Fort, Harmandir Sahib, and The Golden City: Jaisalmer which are not visited due to it. You can be the first to see the unseen side of India if you take your time to see all that the country has to offer.


Capricorn (Makara): If you are a Capricorn, then you are the type that does not take a vacation as much as most people would. For the most part, you are busy in your work but when you do take a vacation it is first class all the way. You make for an excellent traveling companion as you are ready to shoulder the worries of the group to make the travel as smooth as possible.


For the Corporate Traveller
Bangkok, Thailand: The capital city of Thailand is a popular place for people to visit whether it be recreational or business reasons. The famous Wat Arun temple which is an architectural beauty is also located in the city. Another unique attraction for the city which its floating markets where boats stocked to the brim with fresh tropical fruit and veggies along with local delicacies served to the passengers of the waterway. If you have to make one trip for both business and recreation, then Bangkok must be kept at the top of your list.


Paris, France: Filled to the brim with art, history, culture and tourism, Paris has been the default choice of travel for many tourists. Though it may be cliche, you can never go wrong with a tour of France. The city is second to none in the food scene and has got various quaint cafes and patisseries with both casual eateries and Michelin-starred restaurants. And no matter which seasons that you visit the place, there is a high chance that you will be able to attend one of the fun festivals of the city.


Samarkand, Uzbekistan: Samarkand is one of the oldest continuously inhabited cities in Central Asia with a history spanning over hundreds of years. The city also holds medieval architecture and monuments that are included in the UNESCO World Cultural Heritage List. If you visit the country in May, you will be able to witness the Silk and Spices Festival in Bukhara which takes place From May 25 to May 27. You can buy handicrafts, souvenirs, and silk scarves to bring back home.


Aquarius (Kumbha): Everything that you do, you want to be different. You are up for anything new as such, traveling to new places is not something uncommon for you. For the most part, holiday destinations that can stimulate your mind would be the perfect place for those with an Aquarius sign to travel to. As you are able to communicate easily with others, getting close to the local people of the Areas that you visit comes easy for you.


The Cool and Fun Destinations
Banff, Alberta, Canada: A little adventure will always be good for your holiday. Banff which is surrounded by the Rocky Mountains and Banff National Park will be a good place where you can get plenty of adventure from hiking, whitewater rafting to the skin, dogsledding and snowshoeing. Not only that, but the place also hosts cultural and musical performance throughout the year making it an ideal place for your vacation whether you are going alone or with your friends.


Tahiti, French Polynesia: With incredible beaches, stunning natural wonders like waterfalls, and interesting museums to tell stories of the past, Tahiti has a little bit of everything for everyone. The island also provides a wide range of accommodation facility which ranges from no-frills, budget-friendly hotel to the expensive and luxurious five-star resorts. Whether you go there to see a little more of the world, know about history or to make your worries go away, Tahiti is a great place for the visit.


Pisces (Meen): Pisces people love to find romance in the places they visit and often dream of beautiful places that they can visit. A Pisces zodiac sign shows two fishes and just like fish, they often love places with a great view of the ocean or close to water sources like waterfalls and rivers. Places, where good arts and crafts are available, are also of great interest to you. 


Sea The World
The Maldives: Getting the view of the amazing Indian Ocean, the Maldives is definitely the place where you as a Pisces shall definitely be able to enjoy your vacation at. It is a collection of the island set in the bright turquoise water against the stark white sand. The vacation will not be cheap by any measure but your time here includes features like dining in an underwater restaurant or enjoying a treatment at an underwater spa.


St. Lucia: With luxurious resorts and a romantic atmosphere readily available, St. Lucia is a favorite destination for those in a relationship. It is an eastern Caribbean island and home to volcanic beaches, reef-diving sites, luxury resorts, and fishing villages. Whether it be to spend time with your loved one or just enjoy your vacation taking pictures of a beautiful waterfall and botanical gardens, this is a favorite travel destination for you.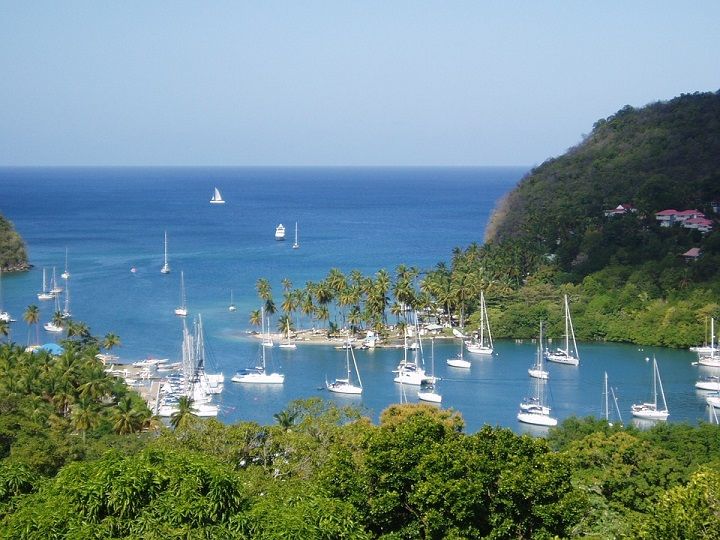 Bacalar, Mexico: The Bacalar in Mexico has the Lake of Seven Colours which has crystal clear, fresh waters and white sandy base. The place is ideal for diving and snorkeling. Furthermore, you can even book a room at the Hotel Aires Bacalar which is located near the Lake of Seven colors which promises a view of the water.


Holiday Destinations For Your Vedic Zodiac Sign In 2019 (part 2)